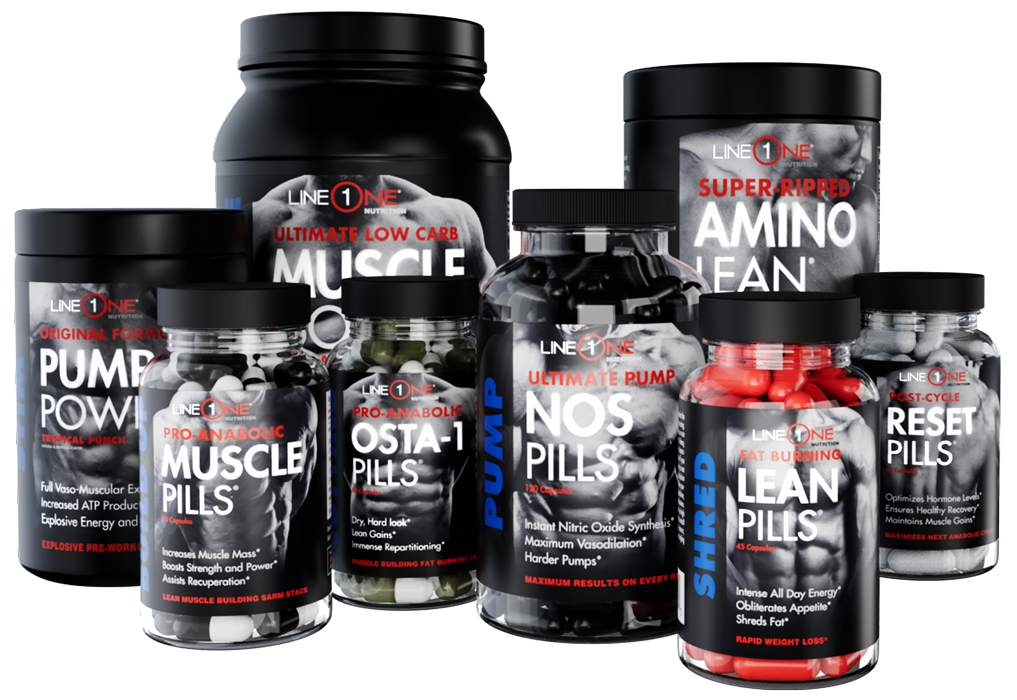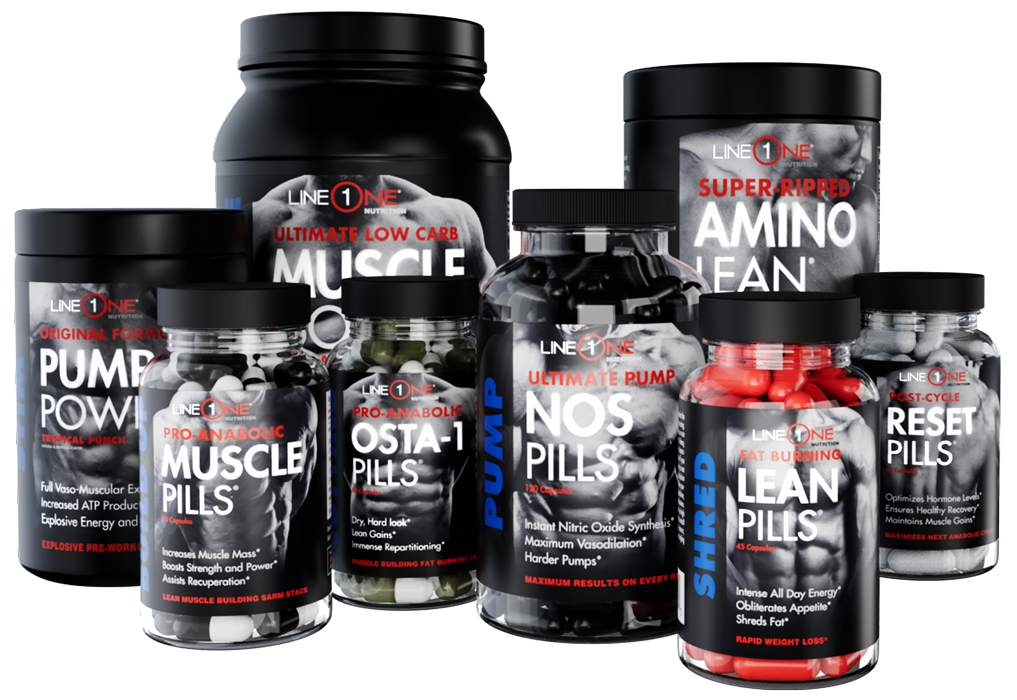 Cutter Stack
LIne One's Cutter Stack includes the core supplements of the Physique Cycle (
Muscle Pills, NOS Pills, Lean Pills
and
Reset Pills
) to take your physique to the next level. You can expect Lean, Quality muscle gains while burning off fat.
In addition to the
Physique Cycle
, the
Osta-1
promotes lean gains with increased strength.
For enhanced recovery, we've added in
Amino Lean, 
which doubles up as a way to enhance your metabolism to burn fat, and
Muscle Isolate
, for high protein supplementation with only .4g fat and 1g of carbs.
Lastly,
Pump Powder
will fuel you through your workout providing an increase in energy, endurance and pump.
And We are giving an extra FREE famous
Line One physique enhancing t-shirt
.
The Cutter Stack Includes:
Muscle Pills

To Get Bigger & Leaner

NOS Pills

For Vascular Pop While Training

Lean Pills

to Shred And Show Off Muscle

Reset Pills

To Optimize Hormone Levels

Pump Powder

To Fuel Workouts
Muscle Isolate High Protein Low Carbs
Amino Lean For BCAAs and Metabolism

Osta-1

To Promote Lean Gains

Free T-Shirt

Show Those Gains!
Go All-In On A Muscular Shredded Head-Turning Physique
This Stack-Cycle Combinations Takes Your Gains to the Max and SAVES 10%
Looking to develop a stage ready physique? Do you want to build the kind of aesthetic body that that can be on stage? Line One Nutrition® has everything you need to turn your body into a jaw-dropping head-turning work of art. How do you do it? Line One makes it possible to maximize muscular cuts with the Cutter Stack, a 90-day program that includes equal parts Muscle Building, Hormone Optimization, and Fat Burning, while maintaining fullness and vascularity.
The Line One Nutrition Cutter Stack… 8 Supplements over 3 months that will take your physique to another level.
8 Supplements over Three Months for an Unmatched Physique
The Line One Nutrition Cutter Stack includes one (1) bottle of Muscle Pills ®, one (1) bottle ofReset Pills™, one bottle of Lean Pills ®, one(1) bottle of NOS Pills™, (1) bottle of Osta-1 Pills™, (1) bottle of Amino Lean, (1) bottle of Pump Powder, and one (1) bottle of Muscle Isolate. 8 Supplements used over Three Months for a stage-ready build! And purchasing the supplements as part of our the Cutter Stack package saves 10% off the price, plus huge savings on shipping!
The Cutter Stack… 8 supplements used over 3 months for ultimate muscle and size gains.
The Line One Nutrition® Cutter Stack® Instructions for Use:
Muscle Pills: Take 1 capsule in the morning with Food and 1 capsule with food before you workout. Spread out the dosage by 8 hours. Used to build underlying lean muscle mass During month 1 of cycle.
NOS Pills: Take 4 NOS Pills 30 minutes before your workout. Or, if you choose to take the NOS pills WITH Pump Powder pre-workout, ONLY use 1/2 the recommended dose. Used to maximize workouts throughout cycle.
Muscle Isolate: Supplement your diet with Muscle Isolate 2 times per day, once in the morning before or after breakfast, and once again after training. Used throughout the cycle to provide the protein needed to rebuild recently trained muscle.
Amino Lean: Use throughout the day to maintain an elevated metabolism, infuse your muscles with essential BCAAs and for natural energy. Use throughout cycle.
Osta-1: Start the Osta-1 cycle after finishing Muscle Pills. Take 1 in the morning with food and one in the evening with food. Separate dosages by 8 hours. Use during month 2 of cycle for extreme lean muscle repartitioning.
Lean Pills: Take 1 Lean Pill capsule per day after lunch. Use during months 1 and 2 to elevate fat butrning during your entire cycle of Muscle Pills and Osta—1.
Reset Pills: Take 1 in the morning and one in the evening with food after completing Osta-1 Cycle. Use during month 3 of cycle.
Warning: Although our supplements do not contain banned ingredients, if you are a professional or amateur athlete subject to performance enhancing substance testing, do not use these products unless cleared by your sanctioning body as it may cause a false reactive result for a urine or blood drug test.
Post Your Results For Free Supplements
The Line One Nutrition ® Ultimate Power Cycle ® will take your build to a muscular head-turning, jaw-dropping level! Try it, get jacked, and then send us photos of the results. If we use them online, we'll send you either a bottle of our Power Protein, a bottle of our incredible Pump Powder™ pre-workout™, or one of our 120-count Max NOS Pump Pills for FREE… you're choice!